Being inspired by Nick V's update and always awesome updates from the Zeeuw boys I figured it was time to get something rolling just to stay motivated.
Below is "Lola" an 1986 Porsche 911 Carrera in Meteor Grey with linen interior. Bone stock except for the steering wheel. Why "Lola" because my wife let me buy this car so I let her name it. She said it looks like a "Lola"????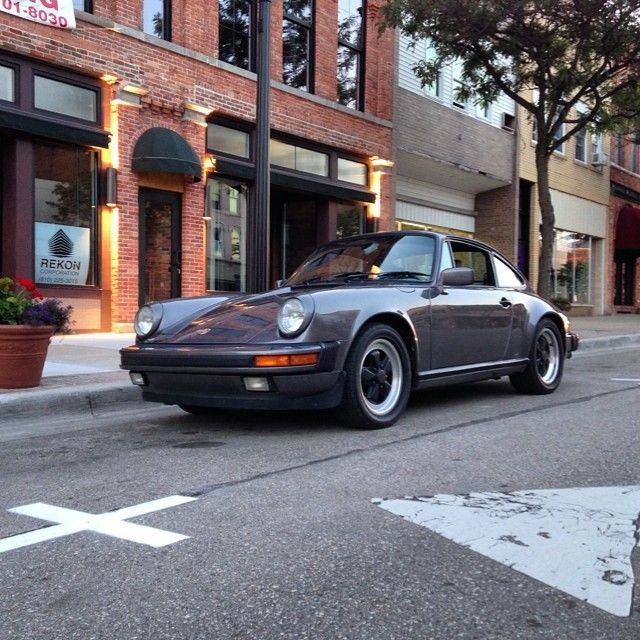 As she sits she has a 160k or so miles and is a two owner car. The original owner purchased the car in Arizona in 1986 and owned it until 2012 or so. He is a doctor and it was his daily driver in both Phoenix and Detroit (upon moving there in the late 90's). Because of that he did no work himself; the good thing about that is I have a stack of receipts a mile high for everything from valve jobs and suspension work to replacing a wiper blade. All at a Porsche dealer; every time! The second owner bought it as a toy and just felt it was time to sell so I purchased it back in July of 2014 after spending 10 months or so hunting.
So why the random Frozen reference in the title? Because I'm a father of a 3 year old girl and well, items found during the PPI (performed by our very own Joe Zeeuw at GAS) mostly pointed toward weak front end components, specifically wheel bearings and tie rods along with a couple other odds and ends. I drove the car through October and then the grand adventure of part collection began. At first it was just going to be tie rods and wheel bearings which I purchased in November (turbo tie rod upgrade......because turbo) then I ended up getting a bonus at work in January and the slippery "while you're in there" slope began. This lead to the following:
Zimmerman front rotors
Hawk HP front pads
Stainless brake lines
ATE Fluid
Shift linkage rebuild kit
Factory short shift kit
Kirk engines valve adjustment tool
Upper/Lower valve cover kit
A couple oil filters (w/ancillary 25mm washers for the change)
You'll notice a few non front end things in there because I wanted to address the leaky driver side valve cover (which if you do that you might as well adjust the valves). And the shift linkage stuff is due to it still be stock and parts are worn and the factory SS kit gets rave reviews everywhere!
That's about it for now. I plan to start working on it over Easter weekend; sorry for the teaser but I am getting antsy and wanted to share in my excitement! I'll post the standard issue "parts on the floor" shot this afternoon when I get home.