Alright, so I've had the USRT kit since about October. Yesterday I was driving and lost all gears but 3 and 4. This is because one of the linkages (a stock VW part) failed. Luckily Brian Johnson was gracious enough to give me the part off of his MK2 coupe to get me back on the road. AWESOME. I get home and cut the balls off of the ends of the part Brian sold me and painstakingly hand filed the rest of it down to perfection because my Harbor Freight grinder is a hunk of shit. Now, I'm going to try to explain the rest of this the best I can because this is where the issue begins. The part that I got from Brian is NOT the arm that comes off of the trans, but the next link in the system that controls the fore and aft into the trans (side to side motion with the shift lever) AKA part number 24(PN24) on page 34a-5 of the MK3 Bentley. Still with me? GOOD. Now, with the USRT kit, there are 2 5/16 heim joints (sphereical rod ends, ball joint rod ends, etc) screwed together that connect the trans arm(PN20 on page 34a-5) to PN24. When the PN20 rotates (fore and aft with the lever inside the car), it twists the heim joints. My issue before was that the heim joints did NOT allow for enough rotation with the PN20 and therefore put strain on PN24 and eventually breaking it. With my new PN24 from Brian, the heim joints don't allow for ANY rotation of PN20 to the left (driver's side) but allow for plenty of rotation to the right. In order for this to work I need the heim joints to actually rotate on the threads by which they are connected. Now, obviously this is NOT how this system is designed to operate, but I am at a loss as for any other solution.
I was not the one to install the USRT kit in the car originally, so I'm not sure exactly how it worked before the failure, but it DID work for 7 months.
Picture of Bentley page coming as soon as i update Adobe.
Finger is point to PN24, and PN20 is labeled!
[IMG]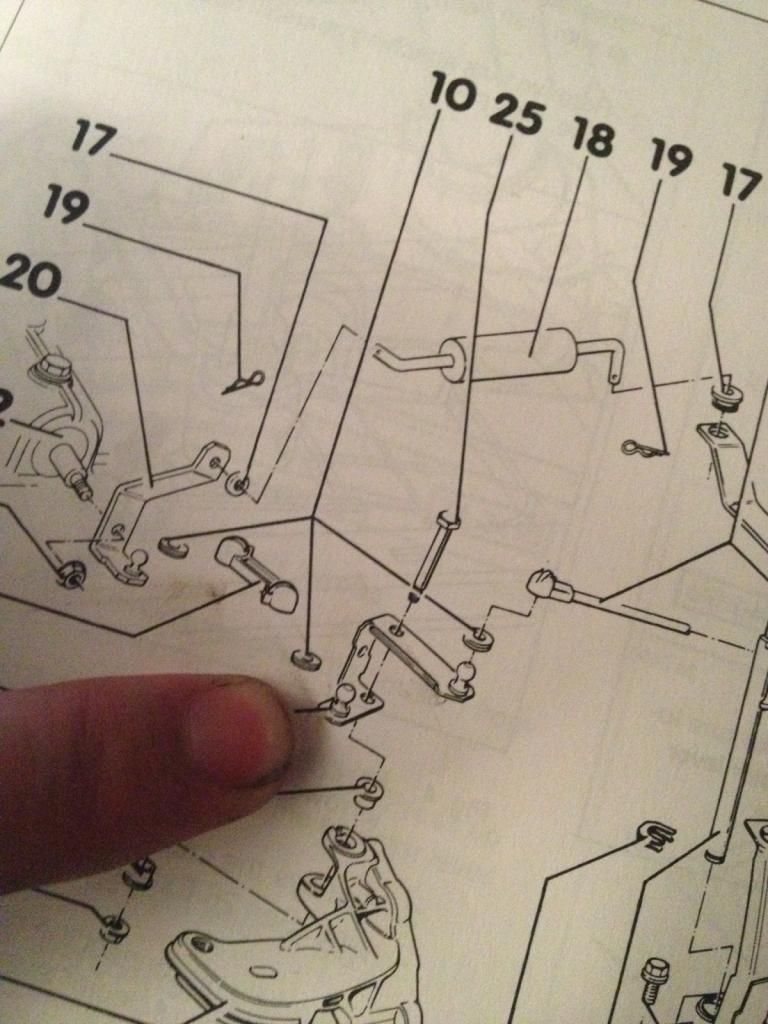 [/IMG]